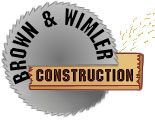 Are you a homeowner aching for an addition? Craving new cabinet and countertops? Despairing over fire or water damage? Then take a look at our residential services.

Are you a business manager looking to renovate your office space or put in a handicapped-access ramp? Want to brighten things up at work with new windows or a skylight? Why not browse through our commercial services.

Or are you a G.C. who needs efficient, reliable subcontractors? Looking for workers experienced in both exterior construction and interior systems? Check out our commercial services listing to see a sampling of our services.
If you answered "yes" to any of the above questions, then allow us to introduce you to Brown and Wimler Construction, LLC, a commercial and residential construction company located in Portland, CT. Owners Scott Brown and Tom Wimler bring a combined 30 years of construction experience to their work, and can meet your residential or commercial construction needs. We offer a broad range of services including concrete, wall systems, acoustical ceiling systems, doors/hardware, millwork and more. Would you like to know more about the company?
Feel free to contact us for a job estimate or with any questions you may have about Brown & Wimler Construction and our services. We will be building out this web site to provide more detailed information about our company and our work, so please stop back again in the next few weeks.
© Copyright 1998, All Rights Reserved. This site is a joint production of Brown & Wimler Construction, LLC and Groove Interactive.